The Singapore Motorshow 2004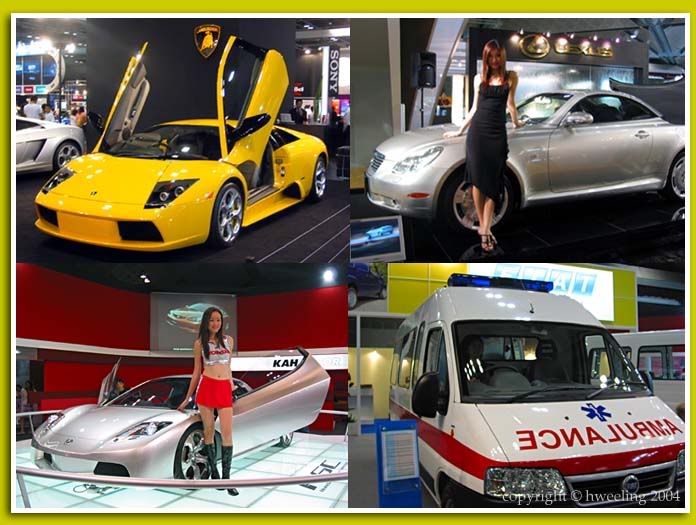 other than trying (often in vain) to take pictures of beautiful cars without being blocked by beautiful but sometimes under-dressed women, we also got to witness half an hour of impressive precision driving performed by master stunt performer Russ Swift (parallel parking in 2 seconds, reverse parking without using the reverse gear, driving on two wheels, spinning on the spot etc), sit strapped tight in one of these Subaru Imprezas for a little nausea-inducing spin by one of the ah-beng drivers on duty, get cool autographs by Russ Swift and motor racing artist Fredd Briggs, and check out the interiors of some of my all-time favourite cars like the Peugeot 206cc and even an ambulance!
all the different car manufacturers were also out in force, showcasing their new cars as well as a drooling number of sleek new concept cars for us to ogle over. As usual, Mercedes had a classic stylish booth with a pretty display of vintage cars. not to mention the Lamborghinis... very nice..
more for fun than for shopping but well worth the $10 paid! We were there for almost 6 hours! :)
*if you want to get tickets for the stunt performance, make sure you are there at the reception counter at least 2 hours prior, when they start giving out a limited no. of tickets for each show.