Aware EGM
the best
$40
I've ever spent in my life... as
Siew Kum Hong
puts it:
"Today, I am so proud to be Singaporean"
.. :) ... finally, victory for an organisation that stands for the values that I believe in: Inclusiveness, diversity, openness and transparency!
2 hours of queuing and almost 8 hours of being in the hall.. but I'm so happy now i could cry.. :,)... (
see story
)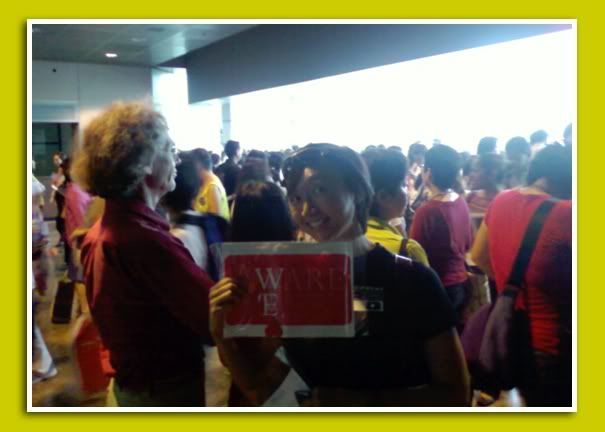 queuing up.... pretty exciting...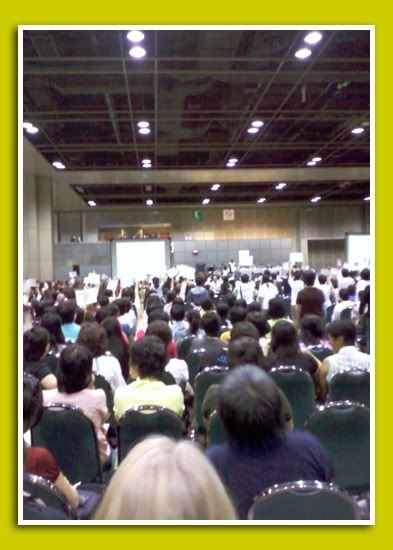 palpable excitement in the hall....

here's
two
three classic moments captured on youtube by others:
Ms Constance Singam to the "new-exco" at the AWARE EGM



Dr Thio Su Mien (mother of the infamous NMP Thio Li-Ann) stating her credentials asserting why she deserves the right to be called "Feminist Mentor".. aka "I am on Page 73"
from
this blog
:
We couldn't see or hear very well from where we were sitting.
A: "What book is she talking about that she's on page 73 of?"
B: "Dunno. Maybe the Bible. She's saying God appointed her on page 73,"
A: "Her bible maybe. Not mine."
... hahhahaha.... actually, it was some book published by Aware in 2007 highlighting some achievements of women in Singapore..
I can't find
I found (!! :)) the video where the ex-honorary secretary Sally Ang (the one in red) tells the Aware founder Margaret Thomas (the lady in blue on the floor) to
"Shut up and sit down"
... that was quite a moment.. am pretty sure that was one of the biggest mistakes made by the team yesterday evening.. haha.. anyway, they shot themselves so many times in the foot that i lost count.. here it is..
ok, back to marking! :p .... and for those eager to pick up souvenirs, someone is selling these!! hahaha.. click on pic for link and
here
for larger image
Update: Just saw newspaper report:
Teachers told NOT to get involved in Aware
A teacher who declined to be named told The New Paper: 'My principal warned us not to go as we may be interviewed by the media, and there would be trouble if we were being quoted or someone

took our picture

'
(!!!).
:O!! hahhaha... :p
anyway, pardon me for my obsession.. but this video shows how episodes like these always encourage a lot of creativity...
and oh, one last thing.. for some reason, the "husbands/fathers in their 40s and 50s" who were at the EGM "with their wives" reminded me a lot of
Patrick the Starfish
... hahahaha... for example, one of these guys said..
"I want to look for the woman who gave me that motherly smile. She is so motherly. She reminds me of my mother."
...hahahhaha PRICELESS!! ... other quotes from these middle age uncles included one guy who said
"I am a man, I am rational and logical. Woman are emotional"
another who joked that he was inspired by the meeting to 'write a book and call it Women Are From Mars And Men Are From Venus' and also one who asked the crowd not to "harass him" (even when no one was doing so despite his time-wasting antics), saying
'One woman I was sitting next to hissed at me as though she was Catwoman. I feel so harassed. Don't harass me. I am only a man.'
... ????