hello panda...
now comes in cheese!!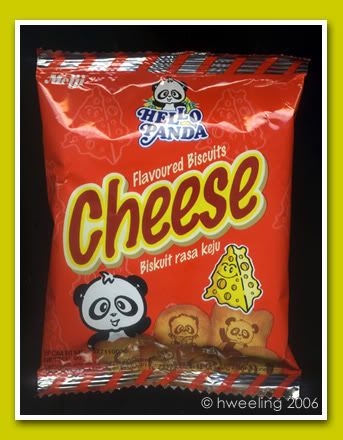 very hard to find.. spent the weekend searching around and it was not to be found in cold storage, ntuc fairprice nor giant or even 2 petrol kiosks.. so far only found in my school canteen and the stall vendor said the supplier refused to disclose his sources! how nasty!

From Wikipedia, the free encyclopedia




Hello Panda is a somewhat popular brand of Japanese biscuits, manufactured by Meiji Seika. Each biscuit consists of a small hollow shortbread layer, within which resides either vanilla, strawberry, peanut butter or chocolate filling, of which the chocolate is more common. Upon the biscuits are cartoon style depictions of giant pandas; presumably this is where the product derives its name. The name could also be a possible allusion to the famed character Hello Kitty.

an allusion to hello kitty?? com'on!! don't insult this cool panda! and i've tried all the favours! :D
and some seem annoyed by the "sickeningly cute anime-stylized panda"..
read this
..
for the weight conscious, this is a
write-up on the nutritional facts
of a typical pack of chocolate filled hello panda... 30% fat! hahaha