Bali Montage
(*warning - rather large image file - 155.22 KB)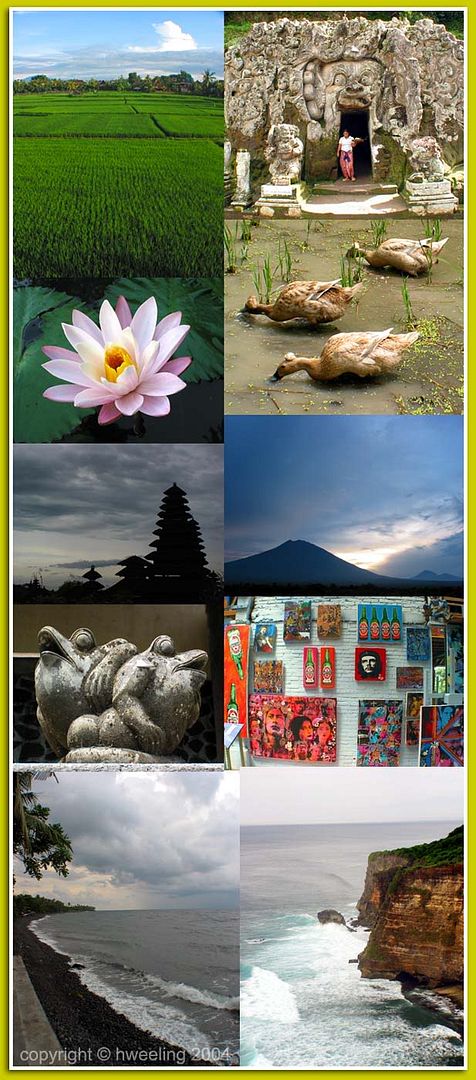 the wonderful feelings from my very recent trip to Bali (I arrived back only on the 26th Dec evening!) are sadly marred by the devastating news of the (still hard to believe) huge natural disaster that has befallen a large part of the region that I come from..
although fortunate to have chosen my holiday in a safe part of the region (thanks be to God*), my heart still wrenches continually from watching the updated reports on TV and reading of it on the Internet and in the newspapers...
:(
via email: Let's Help... (
Full List
)
A list of emergency items needed for the survivors of the recent disaster.

1. Tents
2. Food (Pre-cooked or ready-to-eat meal packs)
3. Water Purification Tablets
4. Wheat Flour, rice, other staples
5. Drugs: Paracetamol, anti-biotics, wound dressing, suture material, disposable syringes, vitamins, and vaccinations for diarrhea, cholera and malaria.
6. Intravenous infusion (saline and dextrose)
7. Portable generators

For small parcels/items, please have them sent to the Sri Lankan Airlines office at
133 Cecil Street, Keck Seng Tower #13-02 Singapore 069535. Tel : 6223-6353

For medium-sized and large donations, contact Sri Lankan Airlines at 62236353 and a staff member will make arrangements to collect items from your office either with their personal vehicles or with a logistics operator.
* in Oct this year, i was planning to go on an end of the year dive trip to the
Maldives
. then in mid Nov, my supposed dive buddy became too overwhelmed with work and we considered changing our trip to a week long
Sri Lanka
trip instead, though eventually, that also fell through. Then in mid Dec, another friend returned from abroad and we excitedly set out to plan a week long liveaboard trip to the Similans, off
Phuket
, where the end of the year normally corresponds with the peak diving season. We were even in the midst of arranging our air tickets. Then his grandma fell ill and we decided to shorten that to either a diving weekend off
Langkawi
or Batam instead. We settled for the latter for novelty reasons. The disappointment from the missed Sri Lanka trip was also more than made up for by another opportunity, to go to Bali (possibly with free accommodation on someone's time share voucher) over Christmas. And hence, it was Bintan and Bali I went to eventually and (yes, in case u haven't realised, i've just listed all the hard hit places above in my entry) and I am safe... I believe i am watched by angels..