Sheares Bridge Run and Army Half Marathon 2004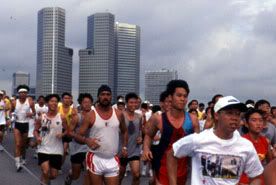 i allowed myself to be coaxed into running the army half marathon (21km) this morning, instead of the 12km fun run i originally signed up for, and I managed to finish the whole thing without stopping in a little under 3 hours!! :D
by no means olympic standard and suffering from some aches in my thighs and ankle now (which i imagine can only get worse tomorrow) plus in desperate need for a quick snooze but it sure feels good to set a new milstone in my running! :) thanks to my pal for believing i could do it and pushing me along.
to more exciting running adventures in time to come!
next: The 10km
Second Link Run
(from Singapore to Johor) in Oct. Should be fun!