Why I'm in a hurry...
It's gone..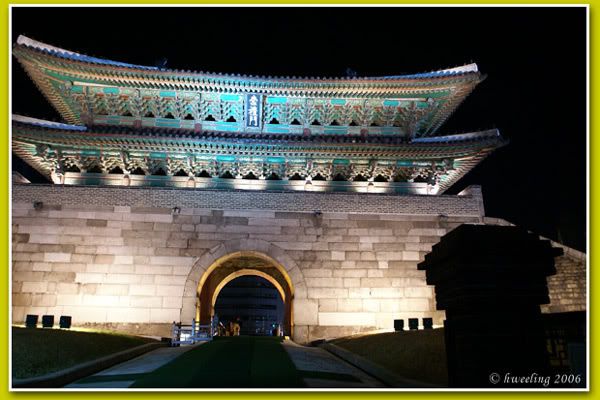 Namdaemun when i saw it only a little more than a year ago, at the end of 2006, with my dear friend Lynn on our 9-day backpack trip to South Korea.
now, it's all in ruins.. (
see article with pic
and more
pics
)
so many sights, so many places, gone before we know it.. some even before we manage to see them... let me count.. the wonderful Lake Pichola in Udaipur (Rajasthan), where James Bond Octopussy was filmed, now all dried up (this one i saw before it happened)... the lovely Painted Storks of Bharatpur Wildlife Sanctuary no longer visit the nature reserve there because of global warming (managed to see them too.. phew)... the glaciers around the world are also fast disappearing (managed to see one in 2003)... Sri Lanka.. peace truce abruptly ended start of this year, after 6 years, making travel there unsafe again (thankfully i visited the wonderful country in 2005).. Middle East.. who knows when it is safe to visit again also.. :(.. (and i haven't even seen Egypt, Israel nor Jordan!!) plus Giant's Causeway in Ireland.. latest report by environmentalists say that up to half of it would eventually become submerged under water (haven't seen!!) and what about the amazing Pamukkale in Turkey!! It's apparently getting really dirty and damaged!! And I haven't seen that too!!
Here are
more
..
Quick! See them before they are gone!!! :(