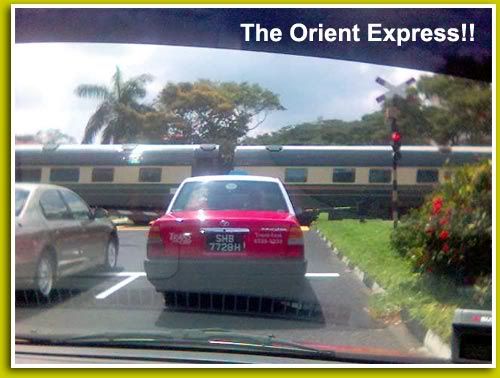 I saw the Orient Express pass by in front of me yesterday on my way to the Chemistry 'A' levels invigilation!! All the cars had to stop for the train to pass by but I didn't mind it at all... after all, it's the Orient Express!!
click here for more info
and
here for the official site

"The Eastern & Oriental Express (E&O) offers the romance of luxury railway travel with fine food, attentive service and breathtaking views..... Train cabins are outfitted in embroidered linens, intricate Thai carvings, and polished brasswork; even standard Pullman compartments have convertible seat-beds, private showers, and panoramic windows; and in the restaurant cars, you'll chow down on Malay curries and mango-filled samosas..."
Check out the prices for the train journeys from Singapore
Singapore to Bangkok or vice versa - prices range from SGD 2,520 to SGD 5,070
Singapore to Butterworth or vice versa - price range from SGD 1,750 to SGD 3,440
Singapore to Kuala Lumpur - prices from SGD 1,120 to SGD 2,340
If you just want to feel what it's like to travel on the train, you can go on the "DAY CAR TRAVEL" to KL which will set you back by a
mere
SGD 380 per person inclusive of lunch and afternoon tea...
in comparison, an airconditioned journey by rail from Singapore to KL typically costs between SGD 19 to SGD 68 depending on the class of travel.
talk about living in luxury!