Birthday Celebrations (this is one of those rare personal posts..)


the sms greetings rolled in, not fast nor furious, but gradually, trickling in over the course of the day (and of course others still rolling in the following day, i.e. today).. with the first one by none other than my wonderfully faithful friend of 13 years Lynn (yes, you're the first :)) at 00:27 and the last one of the day at 19:08 from BKK (hello mingli!! long time no hear!!) .. I had messages from long time friends from a surprising four or five countries and it leaves me feeling all warm and fuzzy inside knowing all these friends remember this day... and knowing that i have friends who will forever remain close to my heart!
Thank you everyone for making me feel so loved!! :)
and of course a special lovely thanks to my bestest friends (of some 19 years!!) who bought me lunch at Marmalade Pantry (wow, the food is really good.. and not to mention the service.. haha) and that perfectly appropriate (you know me so well) "Food Play" (check out the brocooli poodle below!) book on Sunday; and to ____ (some things are truly private) for that special Belgian mussels dinner yesterday and the very thoughtful gift that i so appreciate.... :) and of course to my dear parents for the token ang pow (with a big "OU" on it!!) and definitely to Kapo for the effort at blowing up the balloons.. haha.. and to anyone else who might have been missed out...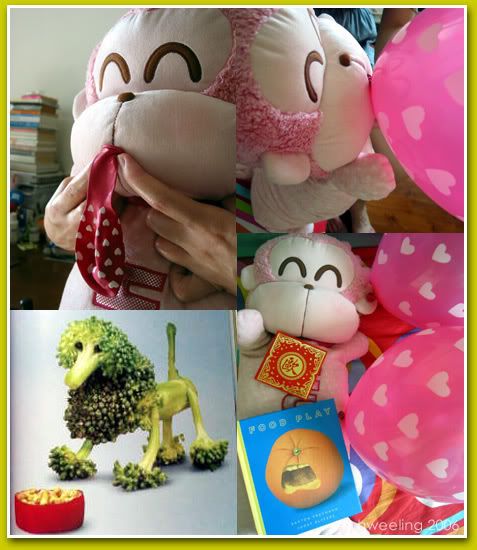 happy birthday too to elvis, stephen hawking, machiavelli (haha), david bowie... and all the others infinitely more famous than me!! :p